Welcome to my May 2017 edition of My To Be Read List, hosted by
Michelle @ Because Reading
. This is a monthly meme where we offer up 3 choices from our TBR pile for our readers to pick from to help us make the super hard decision of "what do I read next?" a little easier and to whittle away at the ever growing TBR Mountain!
Theme: Paranormal Cozies - Here are three paranormal cozy mystery series I've been meaning to start for a long time, so this month at least one of them will happen!
The poll will stay open through Friday 5/12, and I'll update this post with the winning book on Saturday 5/13, then post a review on the last Saturday of the month, 5/27.
If you think this sounds fun and would like to join (the more the merrier, because we love voting!) please head on over to
Because Reading
where Michelle lays out the rules for us!
And the choices are...

Book Synopsis:

M. J. Holliday's a medium with a message -- her business is helping lost souls cross over to the other side. But what if the ghosts want to stay put?

M. J. Holliday has two rules. One, she and her partner, Gilley Gillespie, work alone; and two, she doesn't date clients. But when handsome Dr. Steven Sable needs her help, the specter-spotting sleauth is ready to break both of her rules.

It seems the hot doc's grandfather jumped from the roof of the family lodge in an apparent suicide. But Dr. Sable knows in his bones it was foul play, and strange things keep happening at the lodge. He'll hire M. J. and Gilley -- but only if he can come along. Hey, the duo needs the money -- and looking at eye candy all weekend doesn't sound too bad either.

But once they reach the lodge, the three realize they're dealing with more ghosts than just Grandpa Sable's. And the spooks keep playing nasty tricks on their human visitors. To the untrained eye, it would appear that the ghouls just want to have fun. But M. J. knows they're communicating their distress -- and it's up to her to figure out why.
Book Synopsis:
Bringing a little culture to Stony Mill, Indianam Enchantments is one of the area's finest antique shops. But shop clerk Maggie O'Neill and her employer Felicity Dow do more than conjure up curios for the locals -- they each possess a talent for spellbinding sleuthing...

Bored with her office job (and subsequently fired for excessive tardiness), Maggie jumps at the opportunity to work in Enchantments. She was a little weirded out when Felicity described herself as a witch, but if her boss wants to play with broomsticks and cauldrons, where's the harm? However, Maggie's first day on the job may turn out to be her last when police question Felicity in the murder of her estranged sister.
With everyone in town proclaiming Felicity's guilt faster than the Salem Witch Trials, Maggie finds herself wondering if she'll also be tied to the stake. And lately, she's been receiving messages on a spiritual frequency guiding her to prove Felicity's innocence -- and to embrace her own charmed life...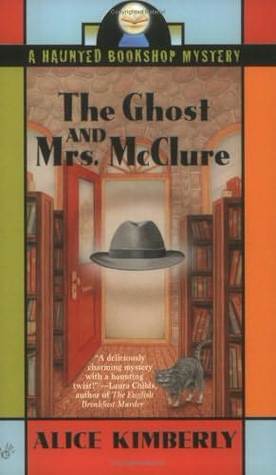 Book Synopsis:
This spirit is willing -- to catch a killer
Young widow Penelope Thornton-McClure and her old Aunt Sadie are making ends meet by managing a mystery bookshop -- a quaint Rhode Island landmark rumored to be haunted. Pen my not believe in ghosts but she does believe in good publicity -- like nabbing Timothy Brennan for a book signing. But soon after the bestselling thriller writer reveals a secret about the store's link to a 1940's murder, he keeps over dead -- and right in the middle of the store's new Community Events space.
Who gives Mrs. McClure the first clue that it was murder? The bookstore's full-time ghost -- a PI murdered on the very spot more than 50 years ago. Is he a figment of Pen's overactive imagination? Or is the oddly likable fedora-wearing specter the only hope Pen has to solve the crime? You can bet your everlasting life on it!
Create your own user feedback survey

#MyTBRL