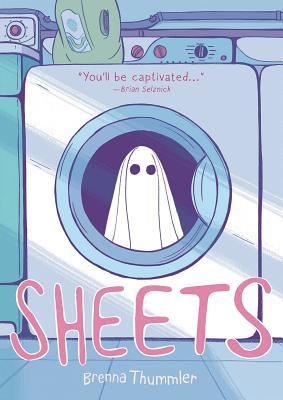 Sheets by Brenna Thummler
Synopsis:

Marjorie Glatt feels like a ghost. A practical thirteen year old in charge of the family laundry business, her daily routine features unforgiving customers, unbearable P.E. classes, and the fastidious Mr. Saubertuck who is committed to destroying everything she's worked for.

Wendell is a ghost. A boy who lost his life much too young, his daily routine features ineffective death therapy, a sheet-dependent identity, and a dangerous need to seek purpose in the forbidden human world.

When their worlds collide, Marjorie is confronted by unexplainable disasters as Wendell transforms Glatt's Laundry into his midnight playground, appearing as a mere sheet during the day. While Wendell attempts to create a new afterlife for himself, he unknowingly sabotages the life that Marjorie is struggling to maintain.


This is a sweet and heartbreaking story with great artwork. I initially thought it sounded fun, but there is a lot more here than just amusement. Both main characters can definitely use a friend, and after a rough start they end up making a great team. The cover is adorable and the concept is well done. I look forward to more from this artist/author!
My rating:
4 of 5 stars
View all my reviews