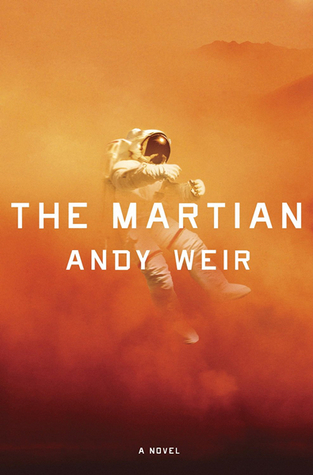 The Martian
by
Andy Weir
My rating:
5 of 5 stars
I received this through Blogging for Books in exchange for an honest review.
I kept hearing friends trying this one out and raving that it was wonderful, and I admit I was intrigued by the premise, so when I saw it available, I decided to give it a try. I was a little apprehensive that I would be bored by a one-man show, I haven't seen either of the movies that it were offered as a combo/comparison, Castaway and Apollo13, though I am aware of them. I had nothing to worry about!
I was drawn in right away, and found myself holding my breath to see how Mark would deal with his next challenge! The science was great, it was high enough level that I could follow it, even if it wasn't an idea I was already familiar with, it was explained and applied to a situation, which really helps me to understand what's going on. Mark is a great character, a definite Space MacGuyver, humorous and endearing, an easy guy to like. I had to be careful reading this one before bed because it was keeping me awake, I just had to see what happened next, it couldn't wait!
I can't recommend this one enough because I really think it makes Sci-Fi accessible to people who aren't usually into it, it's got more of a real world feel because it is our world, albeit the future, it all sounds very plausible. Well, okay, just the sheer volume of stuff that happens to him and that he's able to overcome is kind of over the top, but still! If I have any criticism, it's that it ended a little too abruptly for me, I would have liked just a bit more follow through on what came next, but overall, it was fantastic!
View all my reviews