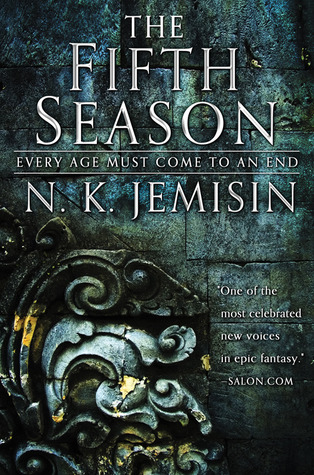 From Goodreads:

THIS IS THE WAY THE WORLD ENDS. FOR THE LAST TIME.

A season of endings has begun. It starts with the great red rift across the heart of the world's sole continent, from which enough ash spews to darken the sky for years. Or centuries.

It starts with death, with a murdered son and a missing daughter.

It starts with betrayal, and long dormant wounds rising up to fester.

And it ends with you. You are the Stillness, a land long familiar with catastrophe, where orogenes wield the power of the earth as a weapon and are feared far more than the long cold night. And you will have no mercy.
This book deserves every bit of the hype it has gotten and more. Here is a list of the awards and nominations it has received:
Hugo Award for Best Novel (2016)
Nebula Award Nominee for Best Novel (2015)
Locus Award Nominee for Best Fantasy Novel (2016)
The Kitschies Nominee for Red Tentacle (Novel) (2015)
Goodreads Choice Award Nominee for Fantasy (2015)
Did you know there was a Red Tentacle award? Me either! But now I need to go find out more about it!
I was lucky enough to be at the Hugo Awards when this book received Best Novel last year, and it was so exciting! There was so much happiness in the room that N. K. Jemisin had won. It felt like a love wins victory after the weird political divisiveness that has been going on in the Sci-Fi and Fantasy world that is such a mirror of real world politics. I wasn't aware of that until I knew we were going to World Con and had started doing some research and ran into articles discussing the different factions. I would have expected this genre to be the most open minded and accepting of all, considering it is based on magic and imagination and science we haven't achieved yet. But alas it still has some ugliness to work out. I think it's dwindling, but it is still there.
That cannot dim the greatness that is The Fifth Season. This was such a well crafted and interesting world, story and cast of characters. There are many messages worked in, class systems, prejudice, history being set by the winners, and rewritten to suit the regime, all woven into a story where it fits, it's not forced, it just is part of the world. Which brings up another idea to me, acceptance of what is, because you don't know any different, and the idea that maybe you need to look further than the surface to see what's really going on. The world itself is so intriguing to me, the "powers" that certain people have are geology based, and it is definitely a post apocalyptic world, perhaps many times post apocalypse, as is suggested in the first line of the summary. This has all happened many times before, they have lore which relates instructions on how to survive it, but maybe that won't be enough this time. There are mysterious DeadCiv artifacts from long gone times, and strange floating obelisks that clearly served an important function, which has been lost over time.
Enjoy isn't the right word for this, I was fascinated and so interested to see where it was going. I'm definitely in for the rest of the ride, and highly recommend it! I wish I had taken notes while I was reading it, there were so many a-ha moments and "I see what you're doing there" that I'm finding difficult to relate now after the fact, universal truths and parallels to our world that make this one changed yet still recognizable to us. Yes, I'm gushing. I'll stop now, you should definitely check out this 5/5 book for yourself!