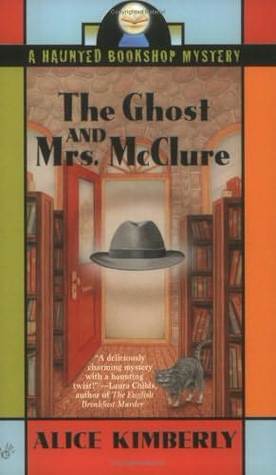 Book Synopsis:
This spirit is willing -- to catch a killer
Young widow Penelope Thornton-McClure and her old Aunt Sadie are making ends meet by managing a mystery bookshop -- a quaint Rhode Island landmark rumored to be haunted. Pen my not believe in ghosts but she does believe in good publicity -- like nabbing Timothy Brennan for a book signing. But soon after the bestselling thriller writer reveals a secret about the store's link to a 1940's murder, he keeps over dead -- and right in the middle of the store's new Community Events space.
Who gives Mrs. McClure the first clue that it was murder? The bookstore's full-time ghost -- a PI murdered on the very spot more than 50 years ago. Is he a figment of Pen's overactive imagination? Or is the oddly likable fedora-wearing specter the only hope Pen has to solve the crime? You can bet your everlasting life on it!
I've been wanting to read this book for a long time, because there's a ghost, it's in a bookstore, and in real life, I am a Mrs. McClure myself, so it's hard not to be affectionate towards a book with your name on it! I was happy that it won the vote, though all three are series I've needed to get into for a long time.
Even so, it does employ my pet peeve of having a cat on the cover when there isn't a cat in the book, not that I was expecting one. It's a long standing complaint of mine on cozy mystery covers. I even had an author pretty much admit to me that they (the publisher? the industry? I don't know how much say authors truly have in their covers) employ a "put a cat on it and they will buy it" ideology. Unless it's a dog cozy. But that's my problem, this is far from the only book dangling a kitty in front of us as a tease.
Mrs. McClure is Penelope, who is trying very hard to put her life back together on her own terms after her husband passed away, raising her son Spencer with as little interference from her husband's rich and controlling family as possible. She has joined her aunt in running and expanding the bookstore, and she thinks she might just be losing her mind. She's hearing voices.
The Ghost is Jack Shepard, who was murdered 50 years before where the bookstore now stands. He was a private eye and he has some opinions on the murder, and a lot of other things, that he isn't keeping to himself. He's a true to form detective noir, and a lot of fun!
Jack and Pen are a good team in trying to find out what really happened at the book signing, he's got the know how and she has the... well, the physical form! Hands down Jack is the star attraction of this book for me, I was a little lukewarm towards Pen herself, and the rest of the town but I felt like the story was pretty well laid out and interesting with enough twists to make me not quite sure who done it! I'm definitely looking forward to the rest of the series!