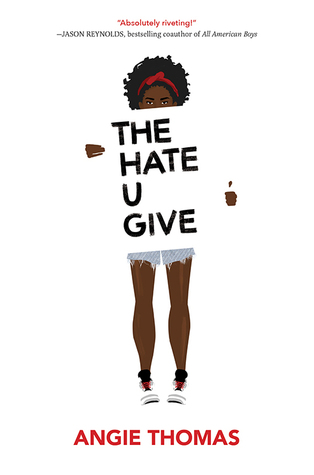 From Goodreads:

Sixteen-year-old Starr Carter moves between two worlds: the poor neighborhood where she lives and the fancy suburban prep school she attends. The uneasy balance between these worlds is shattered when Starr witnesses the fatal shooting of her childhood best friend Khalil at the hands of a police officer. Khalil was unarmed.

Soon afterward, his death is a national headline. Some are calling him a thug, maybe even a drug dealer and a gangbanger. Protesters are taking to the streets in Khalil's name. Some cops and the local drug lord try to intimidate Starr and her family. What everyone wants to know is: what really went down that night? And the only person alive who can answer that is Starr.

But what Starr does or does not say could upend her community. It could also endanger her life.
I wish I could give this 100 stars. So accessible and poignant, best book I've read/listened to in 2017 so far. The Hate U Give covers so many current topics honestly, from the difference between Black Lives Matter and All Lives Matter, to how our personalities change depending on where we are and who we're with, and how we may not see that we're allowing racist comments to pass. It's a perfect showcase of the landscape in place and how unfair it is.
The characters feel so real, and Bahni's reading is perfect. Starr has her faults like we all do, and is forced to own up to those at times, but also finds her power and her voice to make a difference. We are able to feel for her and relate to her as a normal teenage girl just trying to get through being a teenager, with the added problems of gang issues, living in a poorer neighborhood and going to a school where she doesn't really feel like she can be herself. I feel like Starr and her experiences are a great discussion start. I don't feel like I've been attacked as a white person, I feel like this is a wonderful explanation, a here's why, now how can we do better?
I apologize because I feel like my words are inadequate for how important and wonderful this book is. Please read it, even if you don't think you need to, you might be surprised.