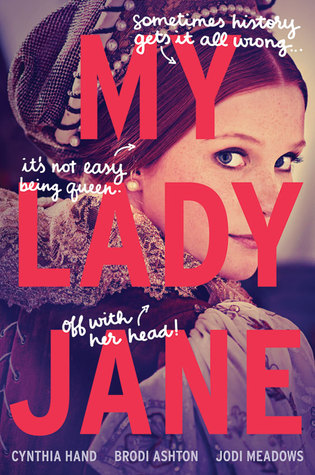 From Goodreads:

The comical, fantastical, romantical, (not) entirely true story of Lady Jane Grey. In My Lady Jane, coauthors Cynthia Hand, Brodi Ashton, and Jodi Meadows have created a one-of-a-kind fantasy in the tradition of The Princess Bride, featuring a reluctant king, an even more reluctant queen, a noble steed, and only a passing resemblance to actual history—because sometimes history needs a little help.

At sixteen, Lady Jane Grey is about to be married off to a stranger and caught up in a conspiracy to rob her cousin, King Edward, of his throne. But those trifling problems aren't for Jane to worry about. Jane is about to become the Queen of England.
This was a humorous and snarky, young adult, paranormal alternate history for Lady Jane Grey. I did enjoy it. It was funny. And the audiobook is read by one of my favorite narrators, Katherine Kellgren, who is the best with doing royal voices. With that said, I felt faintly guilty enjoying it when the true history was so bad for Jane. I do realize that the whole point of this book was to take a sad bit of history and make it an HEA instead, but I'm afraid it may come off as a bit irreverent and flippant to true events. However if it gets readers interested in actual history, that's not a bad thing. And if you go into it knowing to expect an outrageous reworking of history, then maybe it's a little easier to take. I would advise fans of strict adherence to historical facts to steer clear.
With that bit of criticism out of the way,
My Lady Jane
was a lot of fun! Jane is a heroine that any Disney's Belle fan will love, and Edward and Gifford are bumbling and adorable, and there is that bit about the shape changing which causes more than a little trouble. I also love when there is 4th wall breaking, used here when the authors occasionally address the reader to set the record straight (or even more wrong). Kellgren does a fantastic job of getting the intonation just right, especially the snarky and sarcastic bits, which make it a pleasure to listen to.
My Lady Jane will definitely go down as one of my favorites of the year. I'm looking forward to seeing where the story goes next with two more books forthcoming, according to Goodreads.