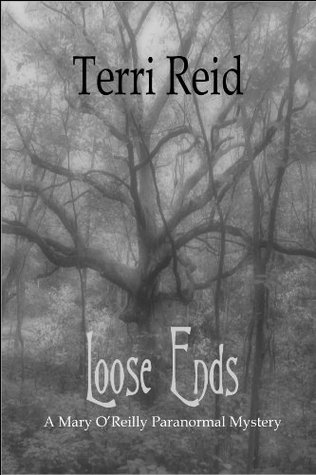 From Goodreads:

Dying is what changed Mary O'Reilly's life. Well, actually, coming back from the dead and having the ability to communicate with ghosts is really what did it.

Now, a private investigator in rural Freeport, Illinois, Mary's trying to learn how to incorporate her experience as a Chicago cop and new-found talent into a real job. Her challenge is to solve the mysteries, get real evidence (a ghost's word just doesn't hold up in court), and be sure the folks in town, especially the handsome new police chief, doesn't think she's nuts.

Twenty-four years ago, a young woman drowned in the swimming pool of a newly elected State Senator. It was ruled an accident. But now, as the Senator prepares to move on to higher positions, the ghost of the woman is appearing to the Senator's wife.

Mary is hired to discover the truth behind the death. She unearths a connection between the murder and the disappearance of five little girls whose cases, twenty-four years later, are still all unsolved. As she digs further, she becomes the next target for the serial killers' quest to tie up all his loose ends.
Loose Ends
starts with a bang, and a few thumps, as Mary's character and lifestyle are established right off the bat! Poor thing is a beacon for the dead with unresolved issues, so it's a good thing she's a tough gal because being constantly approached by those that have passed on, often not gracefully, is not for the weak of heart.
This was a good paranormal mystery, quick paced and interesting, with some humor and some eerieness, though we're firmly on the side of getting these poor souls some help, even ready to cheer when they are able to help themselves and get some well-deserved justice. Bradley the new chief of police and Mary's friends Rosie and Stanley are likable characters, rounding out this great start to a series.
I'm looking forward to seeing what interesting investigations Mary is drawn into next and want to know what the resolution to Bradley's life mystery will be. I'm sure Rosie and Stanley will be right there as Mary's accomplices as well!
Ready for Winter 2015 #COYER