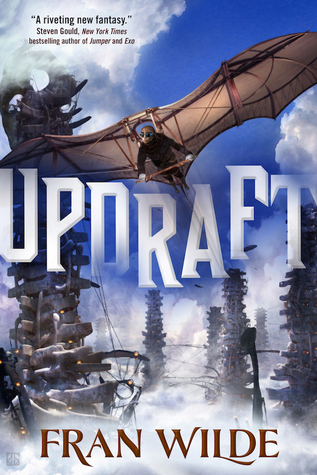 From Goodreads:

In a city of living bone rising high above the clouds, where danger hides in the wind and the ground is lost to legend, a young woman must expose a dangerous secret to save everyone she loves.

Welcome to a world of wind and bone, songs and silence, betrayal and courage.

Kirit Densira cannot wait to pass her wingtest and begin flying as a trader by her mother's side, being in service to her beloved home tower and exploring the skies beyond. When Kirit inadvertently breaks Tower Law, the city's secretive governing body, the Singers, demand that she become one of them instead. In an attempt to save her family from greater censure, Kirit must give up her dreams to throw herself into the dangerous training at the Spire, the tallest, most forbidding tower, deep at the heart of the City.

As she grows in knowledge and power, she starts to uncover the depths of Spire secrets. Kirit begins to doubt her world and its unassailable Laws, setting in motion a chain of events that will lead to a haunting choice, and may well change the city forever - if it isn't destroyed outright.
Updraft
was the June read in a Goodreads group I'm a member of called
The Sword and Laser
. It was an interesting world of bone towers rising above the clouds, where the primary method of transportation is for individuals to fly using what sounds like a type of hanglider contraption but with more detailed movement. The picture above looks much larger and more framed than what is described in the book, in my opinion. Not everyone flies, there are some bridges between towers, and there are flying traders that take goods between towers, of which Kirit's mother is one. Kirit dreams of being like, and flying with her mother as a trader, but that is not to be, her fate lies elsewhere with other talents.
The structure of this world just brings up so many questions to me. The bone is living, it grows, it fills in the lower spaces, the Singers can coax it to grow on the top of the towers, adding new living tiers. So that hints at something very large living below the clouds that these bone towers, spires/spines? are a part of, doesn't it? They are fairly sturdy, but they do sometimes break, toppling those who live there out of the sky, most likely to their deaths, what other outcome could there be? What came about to cause a people to live that way? I hope we learn more in the next book!
I liked Kirit, she knew exactly what she wanted, and it wasn't unreasonable. The problem was there were so many secrets and past events stacked against her, she really had no chance of realizing her goals. She was presented with many difficult dilemmas for young adult, and it seemed like the odds were constantly against her. Sometimes the decisions she made were very unpleasant, in trying for the greater good, and there was a lot of weight on her shoulders.
Overall an interesting read with a very different structure of world, good characters and a plot full of intrigue. I'm looking forward to the next book,
Cloudbound,
due out in September of this year.
Challenges:
2016 I Love Libraries Challenge
2016 COYER Summer Vacation
COYER Bingo E4