The Why Behind the Challenge
I attended my very first WorldCon this past August and it got me really excited about Sci-Fi and Fantasy again. Listening to the Grand Master chat and watching the Hugos being awarded, I realized how few award winners I had actually read, and those are the awards given by the SFF Community for the best of the best! That is what inspired me to host this reading challenge! It occurred to me that while I have been a lover of SFF for as long as I can remember and have heard some of the great names for as long as I can remember, I haven't read as many of their works as I would have liked. I have only this year finally read Asimov's
I, Robot
, so how can I call myself a true fan?! Just kidding!
Now I want to broaden my horizons and share that excitement with you by challenging all of us to read more award winners!
Please be gentle with me, this is the first challenge I've tried to host so it will be a huge learning experience for me and I may be in over my head! I'm sure there will be a lot of kinks to work out. If this goes well, then we'll go for all year in 2017! I even already have next year's Bingo cards ready, I'm that excited!
How does this challenge work?
Declare your intention to join through a blog post, twitter tweet, or any other way you can link to the sign up below. See my sign up post as an example if you need ideas. The Sign Up will remain open through October 31st.
Check out the Awards lists and decide on some books to read. You can list them in your declaration post, or not, I won't hold you to them if you want to change your list or challenge level.

Read!

Review a book, then link it up on the Reviews page from wherever you have reviewed it (your blog, Twitter, Goodreads, anywhere you can link it up).
Play Bingo! (or not, it's up to you!)
Have fun and enjoy reading, maybe even win a prize at the end!
How do I find these award winners to read?
Once I started looking I found SO MANY awards. I have narrowed it down to seven, which I think will encompass plenty of books for us to choose from, and I have decided to allow the nominee finalists, as they are bound to be excellent books as well. Each link will take you to the Wikipedia page for that award, explaining what it is for, and including a list of the winners and finalist nominees since the inception of the award to the present.
Damon Knight Memorial Grand Master Award
Nebula Awards
Hugo Awards
World Fantasy Awards
Andre Norton Award
The John W. Campbell Award for Best New Writer
Prometheus Award
Arthur C. Clarke Award
Goodreads
will also be a great source for you, if there is an author your are interested in, look them up on Goodreads and more than likely their awards will be listed in their author bio. Take a look at
Vernor Vinge
as an example. It lists which of his books won what awards right in the bio! I have also seen a Literary Awards section listed on each book for what it has won and maybe also been nominated for.
If those aren't enough for you, you can also scour through this list of awards,
Science Fiction and Fantasy Awards
, which includes the ones I have listed above, plus MANY more. For the main reading challenge, I will allow any novel with an award or listed as a nominee finalist from the awards on this list if you can provide me a link to it.
Challenge Levels:
You are welcome to declare a challenge level if you like, but you don't have to, just jump in and see how far you get! In order to earn a point towards the level, you must have posted a review and linked it up so we can all see what others are reading, even if it's just a few lines on Goodreads or a Twitter Post. It doesn't have to be a big formal review (although that's wonderful if you do!), I'm more interested in us reading than getting bogged down with reviews, but even an "It's great!", "Loved it!", "OMG that was a rough one!" will do just fine. :)
1-3 Novels: Ursa Minor (The Little Dipper, you're just dipping your toe in.)
4-6 Novels: Ursa Major (The Big Dipper, you're dipping your whole foot in by now!)
7-9 Novels: Orion (You're really grabbing this bull by the horns and going for it!)
10-12 Novels: Perseus (Bring on the Kraken!)
13-15 Novels: Pegasus (You're flying now!)
16+ Novels: The Hydra (You are the Great Book Wyrm!)
Bingo
If you'd like an extra challenge, how about some Bingo?
Download the Bingo card
from our shiny new Facebook Group (Wait, what? A Facebook Group? Yes! We'll talk about that next!) and see if you can fill in a row, or two, if you're really hardcore! Like regular Bingo, columns, rows, and diagonal lines all count, you just need 5 in a row. Just print or save the card, write in the titles of the book you're using for each square (reviews need to have been posted for each square in your Bingo), and then post a picture of your Bingo in the Facebook Group when I call for them. You may post more than one Bingo, but they must be completely different books, so 2 Bingo's would mean 10 different reviews. Piece of cake, right? ;)
Join the Facebook Group!
I have created a Facebook Group for us to use to chat and post reviews, discuss books, ask questions, etc. Award-Winning Science Fiction and Fantasy Challenge
When the time comes I will ask for your Bingo pictures in a thread there.
Prizes
There will be prizes!
At the end of the challenge, I will allow a couple days for you to finish posting reviews and Bingo's, then I will randomly draw:
One successful Bingo

One Challenge participant.
Winners can choose from:
A $10 Amazon GC

A book of value $10 or less sent from The Book Depository
You must have signed up in the sign up post to be eligible. Your reviews are your entries for the Challenge, so the more reviews you have, the better your chances, but even one gets you in the drawing!
Acknowledgements
Thank you to my post testers Lori and Chris, and the wonderful hostesses at
COYER
from whom I've borrowed some ideas on how to set up this challenge, namely Bingo and having a facebook group! COYER is a fantastic event and I can't wait until the next one, coming this Winter (That's right, COYER is coming! sorry, I couldn't resist.) Thank you again ladies for testing and answering questions and being fabulous! ;)
Grab the Button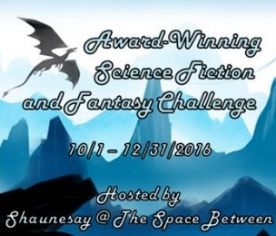 Sign Up Here