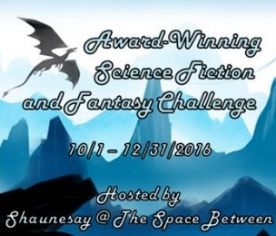 Welcome to my sign up post for my very own reading challenge, the first one I have ever hosted! I'm super excited and nervous and can't wait to get started! To join us, click on the picture above to be taken to the sign up!
I'm going to declare the Ursa Major level for 4-6 books as my goal, and I have picked out a line on the Bingo card to use as my guideline for what books I hope to get read. I've chosen the diagonal from top left to bottom right, here is my list:
Lincoln's Dreams
- by Connie Willis (Any novel by a Grand Master)
Bridge of Birds
- by Barry Hughart (World Fantasy Awarded Novel 1985)
Stranger in a Strange Land
- by Robert Heinlein (Hugo Award Winner 1962)
The Girl Who Circumnavigated Fairyland in a Ship of Her Own Making
- by Catherynne M. Valente (Andre Norton Award Winner 2009)
The Forever War
- by Joe Haldeman (Any novel by a Grand Master)
Here we go!