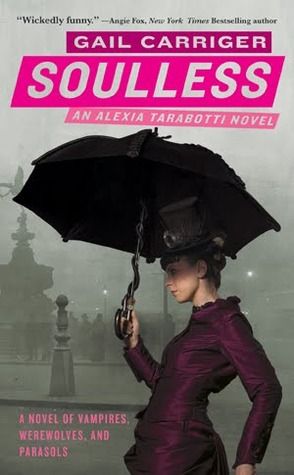 Soulless by Gail Carriger

Alexia Tarabotti is laboring under a great many social tribulations.

First, she has no soul. Second, she's a spinster whose father is both Italian and dead. Third, she was rudely attacked by a vampire, breaking all standards of social etiquette.

Where to go from there? From bad to worse apparently, for Alexia accidentally kills the vampire--and then the appalling Lord Maccon (loud, messy, gorgeous, and werewolf) is sent by Queen Victoria to investigate.

With unexpected vampires appearing and expected vampires disappearing, everyone seems to believe Alexia responsible. Can she figure out what is actually happening to London's high society? Will her soulless ability to negate supernatural powers prove useful or just plain embarrassing? Finally, who is the real enemy, and do they have treacle tart?
This was delightful and I can see why so many of my friends have enjoyed it! Alexia reminds me of a young Amelia Peabody (from the Egyptian mystery series by Elizabeth Peters) if you put her into a supernatural setting, with her scientific interests and no nonsense attitude. I loved her curiosity of the biological processes during the romantic interludes. I loved Lord Akeldama, with his cultivated foppish personality and his entourage, embodying don't judge a book by it's cover. I can tell that Alexia and I will have a lot more fun together, in defense of the realm of course! Poor Lord Maccon!
My rating: 4 of 5 stars