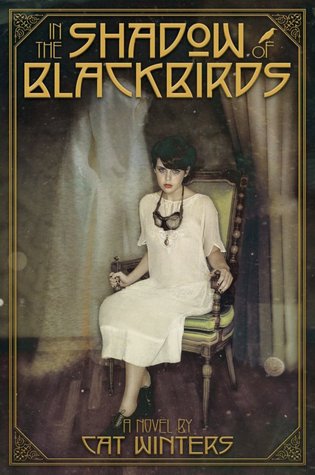 From Goodreads:

In 1918, the world seems on the verge of apocalypse. Americans roam the streets in gauze masks to ward off the deadly Spanish influenza, and the government ships young men to the front lines of a brutal war, creating an atmosphere of fear and confusion. Sixteen-year-old Mary Shelley Black watches as desperate mourners flock to séances and spirit photographers for comfort, but she herself has never believed in ghosts. During her bleakest moment, however, she's forced to rethink her entire way of looking at life and death, for her first love—a boy who died in battle—returns in spirit form. But what does he want from her?

Featuring haunting archival early-twentieth-century photographs, this is a tense, romantic story set in a past that is eerily like our own time.
I picked this up when it was offered as one of the
Big Library Reads
from our local library online. It was historical fiction and I've been in a ghostie mood, it being near Halloween, so the spiritualism and ghost photography intrigued me. I was also strongly reminded that we didn't learn everything in school, as I don't recall ever discussing a huge flu epidemic at that time, though we did cover the world wars. I think we focused mostly on what was happening over seas, not here at home in the states.
This is a dark and scary time in history, people were afraid of letting their neighbors see anything that might be taken the wrong way. Anything German related was suspect. Constant precautions against the flu were prevalent from wearing face covering masks to a steady diet of onions in every imaginable way. Fear was the everyday norm. Into this setting we have a young girl sent to live with her aunt, believing it to be safer for her there. Little did they know it seemed more like she was being dropped into the heart of the fire! Mary Shelley endures and tries to find out what really happened to Stephen, her lost love, to help him rest.
I hate to say I enjoyed this because it was not a happy story, but it was an engrossing one and I was completely engaged in her struggle to understand what had happened. My heart breaks for these two young people that would have been very happy together, torn apart by the world, the war, society and their families. They lived in a world and a time that I cannot even begin to understand from my present circumstances, a world I hope I never do come closer to.
I'm definitely interested in more from Cat Winters, I had heard of her
The Cure for Dreaming
before and
In the Shadow of Blackbirds
makes me more interested still! I highly recommend this if you're in the mood for some history, a mystery, and a ghost!