I'm joining in on Top Ten Tuesday, hosted by
The Broke and the Bookish
! Check out the rules and future list topics here:
Top Ten Tuesday
This week's topic is a Father's Day Freebie, so I am going to share books that my Dad enjoyed or that had a connection for us. He was instrumental in my becoming a bookworm, making me hand drawn flash cards before I'd even gone to Kindergarten. I always gave him books (and a fleecy shirt or blanket until he said no more, I have enough!) for holidays and birthdays, because that was something I knew he would enjoy! Sadly we lost him in October 2014, so this list has some feels for me, but I think it's appropriate for my first Top Ten Tuesday.
Elizabeth Peters is the author of the Amelia Peabody mystery series, which follows the lives of Amelia and her Archeologist husband Radcliffe Emerson on their adventures around Egypt and occasionally back home in England. Dad and I both love Archeology and all things Egyptian, so I was excited to introduce him to this series after learning about it from my aunt. He loved them as much as I did and they are among our most treasured books.
From Wikipedia:
Barbara Louise Mertz
(September 29, 1927 – August 8, 2013) was an American author who wrote under her own name as well as under the pseudonyms
Elizabeth Peters
and
Barbara Michaels.
In 1952 she received a PhD in
Egyptology
from the
University of Chicago
. While she was best known for her mystery and suspense novels, in the 1960s she authored two books on ancient Egypt, both of which have remained in print ever since.
While I do enjoy her other series as Elizabeth Peters, and also writing as Barbara Michaels, her Amelia Peabody series is by far my favorite, and the audiobooks read by Barbara Rosenblat are a complete delight, and EXACTLY how I imagined every character to be.
*****
Murder She Wrote was one of Dad's favorite TV shows, so of course I had to get him the books as well! Who doesn't love Angela Lansbury? I have only read a couple of these myself, but I do have quite a few, so I think it's about time I tucked in, from the beginning.
From Goodreads:
Jessica Fletcher is off to London to deliver the keynote address at a mystery writers convention. She's also looking forward to seeing her mentor, Marjorie Ainsworth, who's hosting a party on her estate to celebrate her latest book. But a routine business trip becomes murderous business--when Jessica discovers Marjorie stabbed to death in her own bedroom...

*****
You might have guessed by now that Dad liked mysteries, and that was much of what I bought him, trying find the ones I thought he might be interested in. He was interested in teddy bears, and was actually quite crafty himself, able to sew and crochet, and he did actually make a few stuffed animals. He thought this was a fun series, and though I haven't read them yet, I do plan to.
From Goodreads:
Retired San Francisco cop Brad Lyon is settling into a quieter life with his wife, Ashleigh, in Virginia's mountain country, where they collect and create teddy bears. But even here, stuff happens...
The day is here-and Brad Lyon is helping his wife put the finishing touches on her best bears, just in time for the Shenandoah Valley Teddy Bear Extravaganza. The event will draw fur-ball fanatics from near and far to buy, sell, or simply ogle the bears. But the main event will be the showing of the Mourning Bear, made to commemorate the sinking of the Titanic-and worth a hefty $150,000.
Then a local also meets a watery grave-and Brad Lyon spots the body floating in the Shenandoah. Old habits die hard, so Brad starts investigating like a homicide cop and finds the deceased might have had a connection to the Mourning Bear. But the local law would prefer that Brad keep his mouth sewn shut...
*****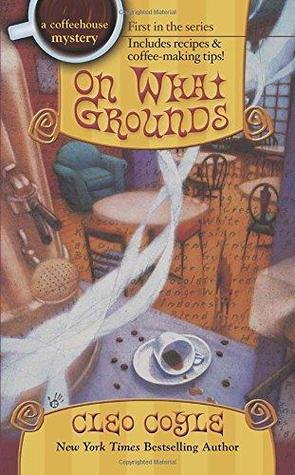 The Coffeehouse Mysteries by Cleo Coyle were another cozy mystery find I made that I felt was right up Dad's alley, as coffee was such a part of his personality. For quite awhile it seemed like all he drank, coffee = Dad to me, so these were a no-brainer. They also contain a lot of interesting coffee trade information from where it's grown, and how it's sold to how it's prepared in coffee houses. I have read quite a few of these and recommend them!
From Goodreads:
A delightful series featuring Clare Cosi, manager of the historic Village Blend coffeehouse...

Clare arrives at work to discover the assistant manager dead in the back of the store, coffee grounds strewn everywhere. Two detectives investigate. But when they find no sign of forced entry or foul play, they deem it an accident. Still, Clare is not convinced. And after the police leave, Clare can't help wondering...If this was an act of murder, is she in danger?
*****
Medieval history and settings were another thing we both enjoyed, along with theater. This series incorporates both of those and was one he really enjoyed. Again I haven't read them yet, but I hope to one of these days.
From Goodreads:

The year is 1434, and preparations are under way for the Corpus Christi festival in Oxford, England. Plays are a traditional part of the celebration, and Joliffe and the rest of his troupe are to perform Isaac and Abraham. Until then, their theatrical antics are in demand by a wealthy merchant who offers them an opportunity to ply their trade for room and board.

But when the body of a murdered man is found outside the barn door where the troupe is lodging, Joliffe must raise the curtain on the merchant's mysterious past and uncover the startling truth behind a murder most foul...
Arthurian tales was another interest that Dad instilled in me, along with all the magic and mystery of Merlin, and the Druids, Knights and the Round Table. This particular book is from 1964, edited by Richard Brengle: Arthur King of Britain, History, Romance, Chronicle and Criticism, with texts in modern English, from Gildas to Malory.
I suspect this one may have been a text book for a literature or history class that he took in College since he would have been there around that time period, or he may have just decided it looked interesting. I know I'm guilty of that! I haven't ever read this one, so I look forward to checking it out one of these days as it appears to be a collection of some classic Arthur tales with commentary.


*****
When I was twelve, Mom, Dad and I were able to go on the trip of a life time. Using saved up travel points, Dad was able to take us along with him on a trip for a work tradeshow, spending extra days to tour through Germany, Switzerland and England. We saw so many castles, but none will ever be able to compare to those built by King Ludwig II of Bavaria. Most people are familiar with
Neuschwanstein
even if they don't know it, as it's one of the most featured castles of all time, from advertisements to game show trip prizes, it is the epitome of the fairy tale castle, only it's real.
It's such an interesting story in real life, so when I saw this mystery based on King Ludwig, I had to get it for Dad. Again I haven't read it yet, but I definitely will, it was such an amazing trip, with many ups and down (my poor Mom sprained her ankle on the way back down, it's built up in the mountains), but I am so grateful for getting to experience all those places.

*****
As you may have suspected, anyone interested in things like Medieval history, castles, and King Arthur probably has at least a passing familiarity with Tolkien's The Hobbit and The Lord of the Rings Trilogy. You would be right! Here are Dad's copies from 1966! They are pretty fragile at this point, so any re-reads will probably happen on a new copy or by audiobook (which I have, and they are great!), but I treasure these all the same.
*****
In keeping with the fantasy theme, this is a book that Dad gave to me either for Christmas or a birthday, I don't recall now, and I'm not sure where it is, but I know I loved it, and now I need to go find it!
Mom has always been the present buyer in the family, which I'm sure is pretty typical as mom's just are more into that than dad's are (not always, but often), so when he actually did the present presenting himself, it stayed in my mind. I really enjoyed looking through this one a lot when I was younger, because of course, Unicorns, need I say more?
The write up is pretty long, so you can check it out on Goodreads:
The Unicorn
.
*****
Last but not least, we have The Muppet Show Book, one of my absolute favorites when I was younger, from 1978.
When I was little, my Dad worked at our local PBS station, and Sesame Street and The Muppet Show were not to be missed shows. It was so cool that my Dad worked at the TV station that played Sesame Street, the muppets were a huge part of my childhood, as they probably were for many people my age, and even still today, as evidenced by the recent muppet movies and reboot of the show.
This book had illustrations and scripts for the first couple of seasons, so even if it wasn't on right then, I could visit them whenever I wanted! I believe ManaMana is in there too. :D so here you go, because I have to!
There are many more books I could share, Dad was interested in so many things that he passed on to me, music, nature, astronomy, but I think these are a pretty good sample of his personality and our shared interests. Thanks so much for taking the time to visit and letting me share this with you!