And now it's time for the list you didn't know you were waiting for! I actually meant to post this a week ago, but you know, stuff and things, they happen. ;)
I hope you had a great reading year in 2015, were able to complete your challenges (but don't be hard on yourself if you didn't, they were just for fun after all!), and are looking forward to more fantastic literary adventures in 2016!
I'm going to recap with my top 10 reads for the year, just in case you're looking for some recommendations, I know I always am, even though my TBR is enough to keep me busy for several lifetimes!
These are in no particular order but made me laugh, cry, renewed my confidence, inspired me, or took me back to fond memories. Sometimes all within the same book. They are books that when I closed the cover on the last page, made me just sit for a bit feeling like I had been allowed to share something special. I hope you enjoy them as much as I did.

I wasn't sure if I would like this one at first. I was afraid the science talk would be too dry. I couldn't have been more wrong, I loved it! The science is actually interspersed with enough personality and humor of the main character that it never bogs down. I felt like they did a good job on the movie as well, even adding a little to the end to give me the closure I wanted in the book that wasn't really there.

The Dalai Lama's Cat and the Art of Purring by David Michie

I love these so much, I love stories told from the animals point of view. HHC is so much fun because she is so very much a cat, but at the same time tries so hard to understand and employ the Buddhist philosophy in her life. She has many adventures, and is always in the middle of whatever is going on in the village, not to mention having to help try out new staff who just don't seem to understand how important she is! She gets a real surprise about her own past in this one! I'm really looking forward to the next installment, The Power of Meow.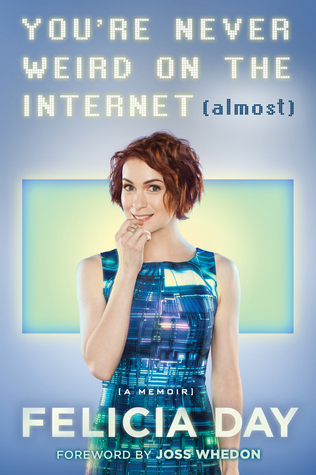 You're Never Weird on the Internet (Almost) by Felicia Day

Like many people I discovered Felicia through her web episodes of The Guild, which depict a group of online gamers who decide to meet up in real life. I am an online gamer, though not quite into all the headphones and chat channels, but I have done it, so I can relate. I loved it, and have seen her a few other places, so when I saw she had written a book, I thought hey, that sounds like fun, and I love the cover! I love it also when the author is able to read/perform their own work, that makes it so much more special for me (Cary Elwes above, and John Taylor's book from past years being among THE TOP for me). What I'm struck by is when you start hearing their story, and relating the time during which you became the most aware of them, seems to be the time when they were having the most difficulty in their own lives, and you realize that being a celebrity is not the dream we all think it should be. I dearly loved listening to Felicia describe her awkward situations and could relate to her in so many ways. A wonderful read, and I felt like I'd found a kindred spirit by the end.
The Perfect Hope (Inn Boonesboro #3) by Nora Roberts

I really never expected to be a Nora Roberts fan, but she got me with this trilogy. The characters were wonderful and I feel like I could just get in the car and drive to this town and see it all for real. Actually I believe Nora has created some of this for real, so obviously I wasn't the only one who felt that way! I think it would be fun to visit some day. I definitely recommend this trilogy if you're needing a feel good happy ending story of some bachelor brothers meeting their matches, and helping a ghost find her way in the process. Check out Inn Boonsboro if you'd like to see the real place.

The Song of the Quarkbeast by Jasper Fforde

I really enjoy Jasper's Thursday Next series and have enjoyed this one as well. It's more a kids series in comparison, but is still very witty and enjoyable for adults. Poor Jennifer Strange is still having to hold

Kazam Mystical Arts Management

together in the absence of it's true leader, who is able to appear only rarely for a few moments at a time. A fun fantasy series!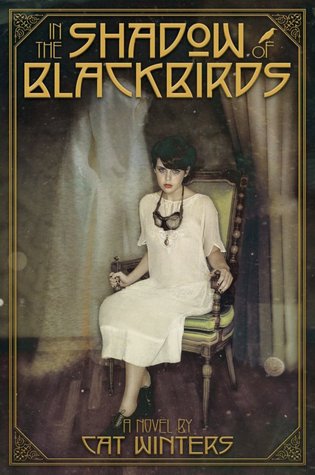 In the Shadow of Blackbirds by Cat Winters

I tried this out when it came up as one of the Big Library Reads where the e-book is available to anyone for several weeks to all read at the same time. I was drawn by the idea of capturing spirits in photography, and actually learned about a time period in history when there was a terrible flu epidemic, and spiritualism was very popular to try and contact or photograph lost loved ones. It was an intriguing and intense read and I look forward to more from Cat Winters!
Aunt Dimity Digs In (Aunt Dimity #4) by Nancy Atherton

Aunt Dimity has become one of my favorite mystery series of all time. I love Aunt Dimity herself, Reginald and his cousins, the way Nancy Atherton can weave a mystery without a murder (not saying there are not deaths, but not centered around a current murder), and just the whole town in general. This episode had a Roman Archeological theme, and the antics of the townspeople were hilarious! I can't recommend these cozies enough!
Children of the Storm (Amelia Peabody #15) by Elizabeth Peters

As much as I love Aunt Dimity, Amelia Peabody IS my favorite mystery series of all time. Amelia and her family are a riot, and Barbara Rosenblat performs the audiobooks to perfection, reading Amelia and her husband Emerson exactly how I pictured them in my head. If you love all things Egyptian and a lot of mischief, then make sure to take your parasol, and an extra shirt, and hop on the dahabeeyah for a fun ride!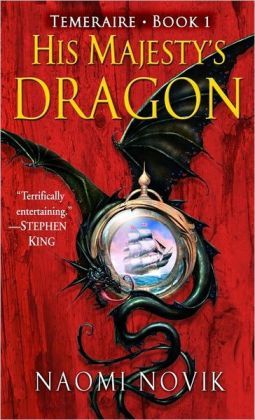 His Majesty's Dragon (Temeraire #1) by Naomi Novik

I love Temeraire, he's equal parts innocence, intelligence, mischievous, sensitive and adventurous and I picture him as being like a cross of movie version Toothless from How to Train Your Dragon and Tom Hiddleston, because he's also so nice and polite and really doesn't want to bother anyone, though he does have his own ideas and really isn't sure about this duty thing he keeps hearing of. This is a fun alternate historical fantasy and I'm definitely looking forward to the rest of the series!